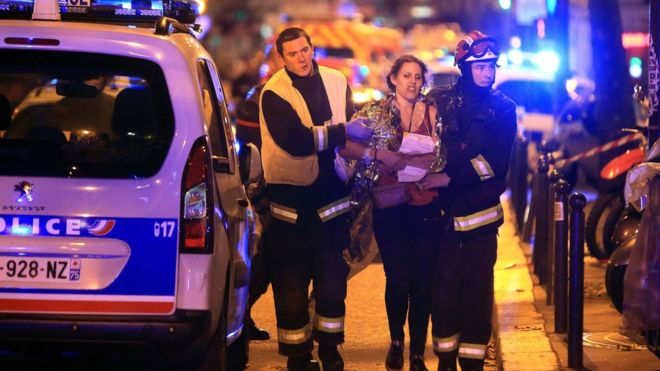 The attacks last year left a total of 147 people dead
French intelligence services should be overhauled following last year's terror attacks in Paris, a parliamentary commission of inquiry has recommended.
Commission president Georges Fenech said all the French attackers had been known to authorities, but these had not communicated with each other.
He proposed a single body like the US National Counter-Terrorism Centre.
The January and November attacks, which killed 147 people in all, prompted criticism of the security response.
From Paris to Brussels: Why the attacks are linked
Charlie Hebdo lives on but 'in darkness'
Charlie Hebdo attack: Three days of terror
"Faced with the threat of international terrorism we need to be much more ambitious... in terms of intelligence," said Mr Fenech.
---
All trace of suspects lost - Hugh Schofield, BBC News, Paris

The committee chairman George Fenech says the aim of the report is not to designate guilty parties, but to make the general point that France's intelligence system failed.
All three of the of the attackers at the Bataclan, for example, were known to the security services and yet all trace of them had been lost.
Part of the problem, the committee says, is a multiplicity of competing agencies and no clear vision of which does what.
For example, the national police and gendarmes have separate intelligence arms and the Paris police have a third, with the result that when one of the Charlie Hebdo attackers moved from Paris some time before the attacks, he disappeared from the radar.
---
The six intelligence agencies currently operating in France should be merged into a single agency directly under the prime minister's authority, the commission said.
This would improve information-sharing and make it easier for foreign agencies to know who to deal with.

Esta noticia ha sido vista por 258 personas.